5 Trends: Benefits & Challenges
The success of digital transformation (DX) initiatives depends on modern IT infrastructure capabilities such as advanced data management and hybrid cloud data services.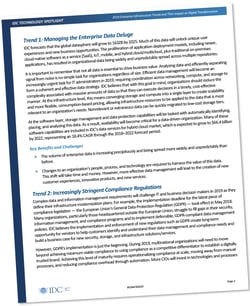 Read this IDC Technology Spotlight for analysis of some of the key technology forces driving DX and creating disruption within established IT segments. Successful CIOs and IT decision makers will address these initiatives throughout 2019 to help their organizations:
Modernize the organization's IT foundation
Enable emerging products and services such as artificial intelligence (AI), the Internet of Things (IoT), and cloud-native applications
Develop a resilient, data-driven IT organization
Access a complimentary copy of the report by filling in the form to gain strategic insights into these key drivers impacting DX initiatives.