Accelerate Innovation with Managed Microsoft Azure
Leverage the public cloud to meet your business objectives while keeping costs under control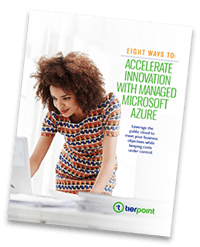 In a recent report, Forrester Research stated that the public cloud is now in hypergrowth mode, and they increased their prediction of the 2020 cloud market size by about 20% over original estimates. There is no doubt that the public cloud is taking off as both public and private sector organizations increasingly take a "cloud first" attitude when making technology investments.
But, what can Microsoft Azure do for your organization?
In this ebook, we'll look at eight scenarios in which an organization can use Microsoft Azure to accelerate innovation and meet business objectives while keeping costs under control.